For decades, delicious Cuban comforts have found a home in Miami.
 In Little Havana alone, you can find hundreds of bakeries and ventanitas keeping tradition alive with flavorful bites of croquetas and pastelitos. But when it comes to fine dining, no place can elevate the experience of Cuban cuisine quite like La Rosa.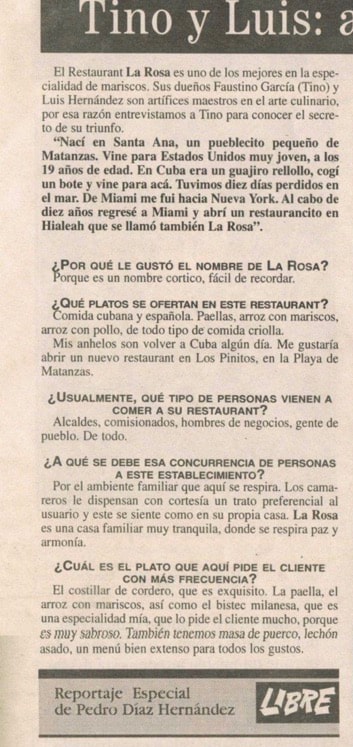 At La Rosa Fine Cuban Cuisine, you can taste over fifty years of history. In 1968, Faustino "Tino" García and brothers Luis and Guillermo Hernandez, wanted to create a restaurant where everyone could feel at home. Making quality ingredients a priority, La Rosa quickly blossomed into an iconic spot for genuine and delicious Cuban food. When interviewed about La Rosa's success, Tino is quoted to have said that while dining at his restaurant, "se respira paz y armonia": one breathes peace and harmony. La Rosa welcomed all – and with regulars like Celia Cruz, there is no question their dishes brought something special to the table.
 For years, Jose Pacheco and his mother dined at La Rosa without knowing that he would one day own his favorite Cuban restaurant. He felt that it had the potential to truly flourish into a place where locals, tourists, and new generations of Cubans could taste the art, passion, and history that goes into their traditional dishes.
When La Rosa was passed on to Pacheco's hands in 2011, he decided to bring the restaurant into the 21st century. Wanting to change the perception that Cuban food does not belong in the world of fine dining, he updated the restaurant's interior and, collaborating with a renowned chef, redesigned the menu to highlight the elegance, flair, and artistry of Cuban gastronomy.
Using the freshest and finest quality ingredients, La Rosa fuses the past with the present, a place where old and new generations can experience Cuban-American classics in a new light. Revive your senses with a sweet-and-sour plate of Macitas, melt-in-your-mouth Oxtail Stew, or a Flan so thick and creamy it's like cutting into butter. La Rosa has bloomed into Little Havana's secret gem–too special not to share with the world. It's amor at first bite.
FUN FACTS
Jose Pacheco and Faustino "Tino" García, one of the restaurant's founders, come from the same small village: Santa Ana Cidra. When Pacheco and his mother would chat with Garcia during visits to La Rosa, they realized their families knew each other back in Cuba. What a small world!
 Although La Rosa underwent some renovations in 2015, Jose Pacheco kept the same staff. Some of them have been working with us for over 30 years.
 Many famous faces have made La Rosa their go-to spot when visiting Miami, including Celia Cruz, Alvarez Guedes, Jorge Felix, Susana Pérez, Robertico, Gabriel Iglesias (Also known as  "Fluffy").